Earlier this month we took Michael to the pumpkin patch. After a VERY rainy summer here on Long Island we'd been warned that the pumpkins were pretty moldy and gross this year... but I had high hopes of getting a cute picture of Michael sitting in a field of pumpkins, or maybe holding an itty bitty pumpkin.
Before we headed out, I changed him into an adorable bodysuit that I embroidered for him and this sweet hat that my mom made.

It was a 14 mile drive to the pumpkin patch, and about a 1/2 mile into our drive, this is what our pumpkin looked like!


My sister-in-law gave him that cute bib. It says "My Aunt is HOT and single" and cracks me up!!

Once we got to the pumpkin field, I set about trying to arrange the few least moldy pumpkins into a group to take a picture.

This was the best I could do...




Once we got Michael out of his carseat and next to the pumpkins he was SO not ready to be awake!!!




We headed over to the hayride area and got to take the hayride all by ourselves! It was a Tuesday afternoon and the place was pretty much empty!

I love this picture of Michael holding his Daddy's hand. I often joke that my son reminds me of a labrador puppy, growing into it's paws... his hands and feet seem SO big to me!




After the hayride, we headed back to the pumpkins to try to take a better picture, hoping Michael was a little more awake.

Not so much...




I thought this area looked cute with the little red wagon abandoned in the background. But Michael wasn't sitting up very well on his own.





Here's what happens when you give Daddy the camera and ask him to take a picture of you with the baby sitting on a pumpkin...



There were quite a few animals on the farm, too.


We'll have to make it a tradition to head to this same pumpkin patch each year, and watch our little boy grow.
Linking up to: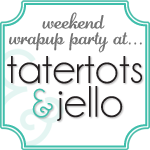 Sorry for the overabundance of pictures! It was hard for me to narrow them down.
:)
Happy Fall!